BROUGHT TO YOU BY CARL'S JR
Today is the first day in a long time that my husband has gone to work and I've stayed home. When he's here, I stick to him like glue. And there have even been a couple of days where I worked while he was at home. Hence the lack of blogging; who wants to sit at the computer when the coolest person on the planet is in her living room?
Yesterday at work, I witnessed another example of what Rachel Lucas would label as Idiocracy Watch. Three women were trying to figure out the price of an item that was $5 and 70% off. They never even came close to guessing, just urging each other to figure it out. One of them eventually took her cell phone out and said, "Five...times...seven...zero...aw man, there's no percent function." So she deleted the math and started over, ending up in the same conundrum. It was what plants crave, seriously. Percent function? Dang. Finally, they turned to me and asked me what the price would be. I said that half of $5 is $2.50 and half of that again is $1.25, so it'd be somewhere around $1.40. They looked at me like I had explained relativistic physics.
Oy.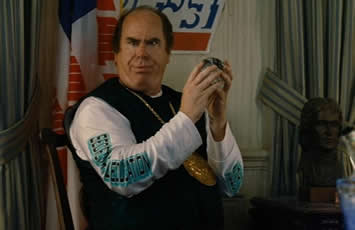 I know I bragged about knitting math, but really, I'm not that good at math. I can do arithmetic and algebra. And usually I prefer scratch paper. I would've struggled for a few moments to figure out 38% of a number. But 70% of a nice round number like five? Yeesh. And I was even WRONG by ten cents, so shame on me a little. But that was off the top of my head in about 15 seconds, so close enough. Closer than they got, which was "I was told there would be no math in shopping."
Posted by Sarah at January 13, 2009 08:13 AM | TrackBack