KNITTING MATH
I've long wanted to do a post on knitting math.
There's lots of algebra and basic math in knitting. Knitting is mostly just ratios: you do a swatch to find out how many stitches to the inch and then find the equivalent fraction for however many inches your knittery should be. I love scribbling out my little solve-for-x problems.
There are also times when the Pythagorean Theorem comes in handy. Like when you're making something on the bias and you want to make sure that you're knitting a true square. You are making a triangle and you can solve for the hypotenuse to make sure your real hypotenuse is hitting the target.
That stuff pumps me up on dorkosterone.
When I taught knitting classes, I taught a handful of homeschool kids. I always made sure to tell their mothers that knitting can be used for math word problems. I am sure the kids were thrilled that I made knitting into schoolwork.
I am always the first to pipe up with my knitting algebra whenever people repeat the dumb "wisdom" that once we get out of school we never have to use that math stuff again.
So when AWTM told me that Chuck Z wondered if I could make him gloves, it was just a matter of doing a little glorious math.
The backstory on Chuck is that an IED took part of his left hand. He lives in cold climes and can no longer wear store-bought gloves. What he needed was custom-made ones to fit his injured left hand.
Obviously, the right glove was just a regular old man's glove. The left glove took some math to adjust the circumference of the wrist and hand, to accommodate Chuck's bigger left wrist but smaller left hand. Chuck's wife took extremely detailed measurements and I scribbled out some ratios and knitting math.
And Bob's your uncle.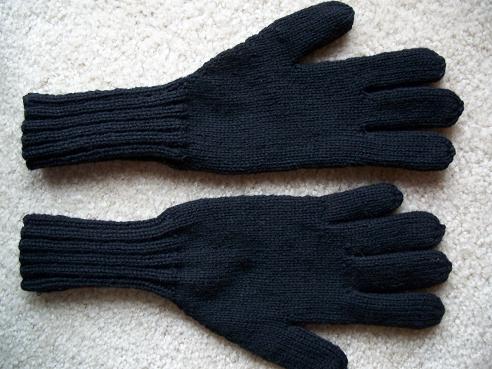 I am not entirely happy with the fingertips. The pattern called for cinching them, but once they were done, I wish I had tried to kitchener them instead.
But I did infuse them with manly awesomeness: I knitted them while watching classics like The Terminator, We Were Soldiers, and Death Wish.
Chuck says they "fit like a glove", heh.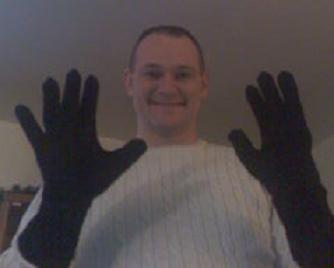 I am completely chuffed that my knitting helped support the troops. I mean, this is something that only a knitter could do. Chuck needed me, and I was so excited to oblige.
Plus there was math.
Posted by Sarah at January 3, 2009 01:40 PM | TrackBack