I BORE ARMS TODAY
My husband organized a surprise for my birthday. He'd been cooking it up since July, and although I was really curious about what he was planning, I didn't really try to guess it. And he managed to make it a real surprise in the end.
He took me to exercise my rights.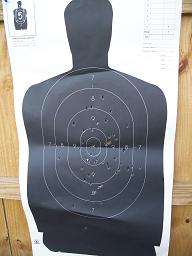 We have been talking about purchasing a firearm since we got back from Germany. So when we drove up to the place, I figured we were going shopping. That's when he told me that this place had its own firing range. I'm sure my face looked like most women would look if they were offered a shoe shopping spree. Better, in fact.
I had never fired a weapon before. I'd never even been around firearms before; the first time I ever saw one up close was the day my husband deployed. (Seriously, I was so retarded that when my husband gave me tips, a few times I thought "Hey, I know that from CSI:Miami.") I must admit it was a bit intimidating. I had to keep reminding myself that bullets can't just explode on their own, and a revolver with the cylinder open can't really hurt you. That may sound silly to experienced marksmen, but it's an unsettling feeling for a novice. Someone who's accomplished with firearms handles them with confidence and ease, while an idiot like me wanted to hold it like it was an egg and hide behind the partition while my husband was loading it.
We rented a Smith & Wesson revolver and an XD 9mm. My husband gave me some pointers and showed me how to handle the revolver first. As I aimed for the target's chest, I savored the moment of taking my first shot. And didn't really hit the chest. I am not very good at aiming yet, and I wasn't expecting the spark of flame that accompanies the shot. And the noise. But I improved a little as we made our way through the box of ammo and became a bit more confident.
The 9mm was a different story though. My husband originally said that we might want to consider buying a revolver. In my stupid mind, I thought that a revolver wasn't sexy enough. Who wants a revolver when they could have a 9mm? Um, I do. Holy crap, the kick on that thing was absurd. Apparently knitting muscles are not the same ones as firearm muscles! I had the hardest time keeping the danged thing from jumping four inches every time I fired it. I could barely even aim the thing, just hope for the best that I was at least hitting the silhouette somewhere.
We didin't buy anything tonight, but I think I'm leaning towards a revolver. Maybe I'll graduate to that 9mm once I have more practice.
So my husband, who barely remembers to get me a birthday card most years, came through with flying colors. It was a genuine surprise, and one that made me feel giddy inside to be an American. Especially since I just read Bill Whittle's Freedom again the other day:
Once the Second Amendment goes, the First will soon follow, because if some unelected elite determines that the people can't be trusted with dangerous guns, then it's just a matter of time until they decide they can't be trusted with dangerous ideas, either. Dangerous ideas have killed many millions more people than dangerous handguns -- listen to the voices from the Gulag, the death camps, and all the blood-soaked killing fields through history.

The Framers, in their wisdom, put the 2nd Amendment there to give teeth to the revolutionary, unheard-of idea that the power rests with We The People. They did not depend on good will or promises. They made sure that when push came to shove, we'd be the ones doing the pushing and shoving, not the folks in Washington.
However, as we arrived and walked towards the range, I got a funny smile on my face. I told a lot of people that my husband had a surprise for me today. My friend from Sweden. My aunt. The little old ladies from my knitting circle. Are they going to all freak out if I tell them the truth about what my husband organized for my birthday? It's even more intense than that year he introduced me to his tank.
So I made the leap to Grown Up today. And I also made the leap to 2nd Amendment practitioner. Big day.
Posted by Sarah at October 11, 2007 08:45 PM | TrackBack