HAND-CRAFTED COMFORT
Butterfly Wife is the queen of sending cards to the wounded at Landstuhl. She has already contributed 457 cards. I completely lay myself at her feet. She says writing the cards is like chanting a mantra. I too have found a troop-related activity that makes me feel this way.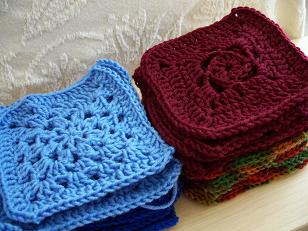 All these squares will be sent along to Hand-Crafted Comfort to be made into afghans for the wounded. I am on a roll. I made all the blue ones on the plane to Hawaii, and my goal is to make a whole afghan's worth of the autumn-themed ones: 70 total. I'm a tenth of the way there.
And yes, they're crochet. Don't judge me.
Oh, and by the way, this is hilarious. Butterfly Wife was asking for suggestions for songs to listen to during deployment. Someone mentioned "Right Here Waiting For You." Then BW's husband shows up in the comments section and says
No Richard Marx sweetie. We both don't need PTSD.
Bwahahahaha.
Posted by Sarah at October 12, 2007 11:01 AM | TrackBack