HAND-CRAFTED AWESOME
I am mostly finished with this round of baby knitting, so I have thrown myself into crocheting squares for Hand-Crafted Comfort. Some of the ladies from my preemie knitting group donated yarn to me, and it all seemed to be red and blue. I threw some white in, and voilà: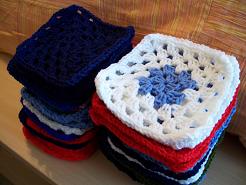 I made 35 of these new patriotic squares. Coupled with the 16 for my autumn-themed blanket, that means I'll ship at least 51 squares to Heather soon.
Hey, 51.
But Heather's in the process of moving -- her hubs is returning from Iraq soon! -- so who knows how many I'll have by the time she gets an address. I still have a lot of that red and blue left, and I love the freeing feeling I get when I'm using up extra yarn that's been sitting around for a decade.
(Yes, I have yarn that's been sitting around for a decade. If by "sitting around" you mean PCSing with us five times and being dragged across the Atlantic.)
Posted by Sarah at January 25, 2008 08:43 AM | TrackBack