#51
I haven't been keeping track of the days my husband has been gone; instead, I've been keeping track of his absence by counting the letters I've sent to him. Today is a big day; it's my husband's favorite number.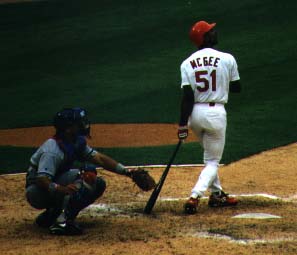 My husband introduced me to Willie McGee when we met, and I don't think I've ever heard of a nicer famous person. My husband has an old yellowed copy of this article that he cherishes.
We're at letter #51, Blue 6. I sure do miss you.
Posted by Sarah at May 15, 2004 09:16 AM