WANNA TRADE?
David sent me a link called Rattling the Cage: Waiting for Bibi's New Deal:
In other countries, beginning with the US and Europe, a new economic era has begun. Laissez-faire, anti-tax, anti-government capitalism is understood to have failed (it sure as hell didn't prevent this disaster, did it?), and the response has been a turn to the Left. In other countries, it's understood that government has to step in with more liberal, social democratic, Keynesian, New Deal-style policies or the economy is going to sink through the floor.

Not here, though. Here people are scared of losing their jobs, afraid to spend a nickel, their hearts go out to the factory workers who've gotten laid off, they read about how charities that keep hundreds of thousands of poor people afloat are about to go bankrupt, and what is their idea of change, of an Israeli New Deal? Bibi Netanyahu. The world's last reigning (or soon-to-be-reigning) ideological Thatcherite.
The article is not meant to be flattering; the author apparently wants an Obama. But I must say that when I read that intro to the article, I felt jealous of Israel. They get Benjamin Netanyahu and they're complaining about it.
Dude, I will trade you leaders any day of the week.
Our ship has hit a hurricane, and this is our crew, folks. To the poor and the soon-to-be poor: Don't expect a whole lot from the incoming government. The New Deal under Prime Minister Netanyahu looks like it's going to be a copy of the Old Deal under Finance Minister Netanyahu: Every man for himself.
Yes yes yes! Oh wait, that's meant to be a bad thing?
The whole article is about how Netanyahu didn't "solve the ecominy" last time he was in office; it just righted itself eventually. That's meant to be an insult, that Netanyahu didn't do anything. But in my estimation, presidents or prime ministers ought to stay as far away from touching the economy as possible. The free market will eventually right itself, but not if you tinker with it too much.
Our new president is a tinkerer of epic proportions. I'll take their guy over ours whenever they want to trade.
Not to mention that he ain't so bad on the eyes...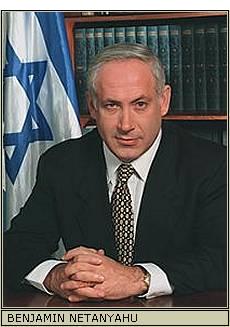 Rawr.
Posted by Sarah at March 5, 2009 08:02 AM | TrackBack