DOOOOMED
Amritas pointed me in the direction of the latest Newsweek cover.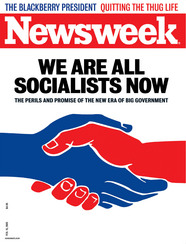 And the corresponding article:
We Are All Socialists Now:
In many ways our economy already resembles a European one. As boomers age and spending grows, we will become even more French.
Sweet Jesus. We're doooooomed.
The article blames the whole thing on George Bush, and trust me, I think he deserves some blame here for his obscene spending problems. But the article was a little too triumphant about laying the blame at Bush's feet and washing Obama's hands of any culpability.
Nestled in this article is a little gem:
Polls show that Americans don't trust government and still don't want big government. They do, however, want what government delivers, like health care and national defense and, now, protections from banking and housing failure.
Oy. We're boned.
Posted by Sarah at February 10, 2009 08:38 AM | TrackBack