UPDATE
I figured I should give you a small update re: baby.
So here's the deal: You take women who are extremely freaked out about miscarriage and you give them a medicine which prevents miscarriage but which also has the absurd side effect of irritating your cervix and making you bleed.
(I'm reminded of the scene in Futurama when Fry says he can't swallow a pill that size, and the professor says "Well then good news!" because you don't swallow it. Ahem. Oh, and they're refrigerated.)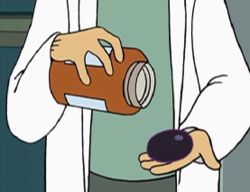 So basically now it's just a waiting game until I go for my ultrasound in two weeks. I won't know anything until then, but even then I won't feel great: the last time, you'll remember, we managed to become one of the 5% of people whose baby has a heartbeat and then subsequently dies.
I may be a while before I feel confident. Please don't try to convince me I should get that way right now. I won't breathe easily until I make it to a milestone that I haven't reached in the past. Like seeing a doctor. I've never even done that yet.
So we wait it out.
Posted by Sarah at February 26, 2009 07:59 AM | TrackBack