MY DAD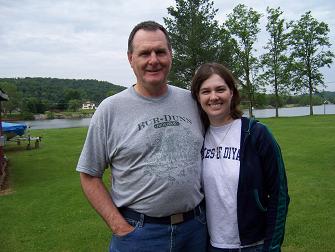 I look all squinty and goofy in this picture, but my dad looks great.
My dad is not the most emotional guy, but he's been very sweet these past few days. My mom has kept him updated on what's going on, and he's been loving and nice. When I talked to him today, I ended the conversation by saying, "OK, well have a good day!" and he made sure to interject with an "I love you" before I hung up the phone. That's not my dad's normal instinct, so it was very sweet. I know he loves me; he just doesn't say it all the time. But it was nice to hear today.
Happy Father's Day, Dad. Sorry I kept Mom away from home today.
Posted by Sarah at June 15, 2008 08:53 PM | TrackBack