DEUTSCHLAND, WE HAVE A PROBLEM
When I make socks, I always make them too short. I get anxious to start the heel and shave rows off the leg. Thus I always end up with short socks and a ball of leftover yarn.
This time I decided I was going the full length on the socks. I didn't want that ball of leftover yarn. Success! Definitely no leftovers here.
Rats.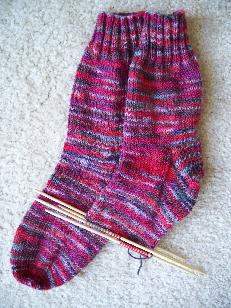 Looks like I'll be begging my German connection for another trip to the yarn shop. And then I'll be stuck with a whopping big ball of leftovers.
Posted by Sarah at October 2, 2007 11:08 AM | TrackBack