I'M TWO TODAY!
I met a very shrewd homeless man yesterday. He was camped out in front of the doggy bakery. What a clever idea: nothing says "I have extra cash" like a lady buying sweets for her pup. I had to give him my change after that display of decadence.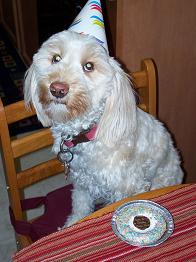 Today is Charlie's 2nd birthday. It seems like an eternity since we celebrated his 1st. This year he doesn't have any friends to invite over, but we're working on it. I think I may have found a rottweiler for him to be friends with.
Charlie's come a long way from impersonating a sweet potato.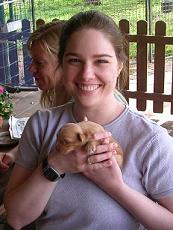 He's a good dog. Mostly.
Posted by Sarah at April 18, 2007 07:39 AM | TrackBack