BISCUITS
As you know, I've been feeling guilty about Charlie's accident. I've never even had stitches, but I made my dog have to get them! So I've been spoiling him rotten for the last few days. Today I decided to make him some homemade dog biscuits. The recipe said it would make three dozen, so I decided to double it. Would someone mind telling me when three dozen turned into 100? I've got 200+ dog biscuits here now! So everyone's getting some: Winston, Lewis, Elway, and any other dog I can think of. They seem to be a hit; the whole time I was baking, Charlie was doing this: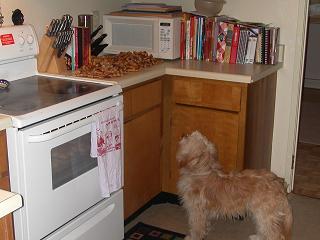 Don't be fooled by the silence of your computer; he's howling his fool head off in this photo. That's all he did for two hours. Except of course when he was trying to think of a better way to get at the biscuits: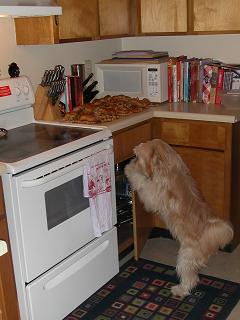 That dog is just too dang much.
Posted by Sarah at February 21, 2006 05:38 PM | TrackBack