DOUBT
For the past few years, I've been a steadfast warmonger. I have believed that all people on this planet, given the chance, would choose freedom over chains. I have believed that everyone is worthy of democracy, that my country was doing something Good by opening up Iraq to democracy. I have continued to believe in the fundamental value of democracy, even as my husband began to scratch his head. I've been an idealist, but he's actually been to Iraq. The seven signs of non-competitive states have troubled his mind and made him wonder if Iraq really will be able to pull itself out of the Dark Ages. I have insisted that it must be so, that all people must want to be free. But my heart sank when I saw this today: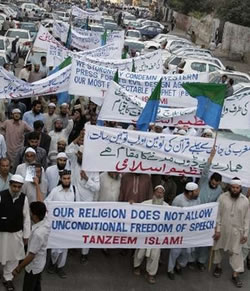 This photo from Pakistan feels like a punch in the gut. It makes me want to cry, just as the al-Sadr photo did two years ago. Why doesn't my ideal chair ever match up to the real chair?
I don't want my husband to be right.
Posted by Sarah at February 9, 2006 09:49 AM | TrackBack