MY BATTERY FIASCO
AirForceWife and I have the same camera, and last time we were together we were lamenting how it sucks batteries. I came into town with a set of batteries in the camera and an extra pair. I cycled through all of those during the Mehndi alone.
So on my way out of town on Friday, I stopped at the Walmart to buy batteries. My husband called while I was in the self-checkout, and I stupidly walked out of the store without my bag of purchases. It didn't even sink in until I got to Chicago that the batteries were nowhere to be found.
Next stop was a corner store near my friend's house the day of the wedding. I bought a four-pack and we headed to the ceremony. I had enough battery power left on the ones from the Mehndi to take one photo of the venue.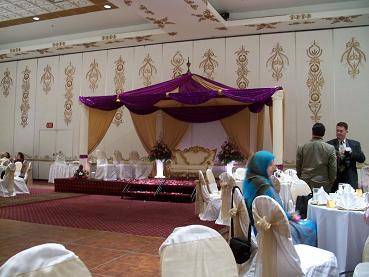 Right before the ceremony started, I put the new batteries in the camera: nothing. Not even enough juice to turn the camera on. I bet they'd been sitting in that corner store for years.
So here I am at the most beautiful and colorful and camera-worthy wedding I'll ever attend...with no batteries.
Luckily, Muslim weddings have a break in the middle for evening prayer. During this break, I went to the hotel front desk, asking if they have a gift shop. They do, but it was out of batteries. However, the nice manager went off in search of a pair of batteries owned by the hotel. He brought me two AAs and I handed him some dollar bills and raced back to the wedding.
And thank heavens those batteries lasted through the wedding and the Walima.
More on that later. I'm on my way to Walmart. I called them from Chicago to see if they'd found my forgotten bag, and they said that if I bring my receipt, they will give me another pack of batteries. Three cheers for awesome customer service.
Posted by Sarah at August 18, 2008 10:20 AM | TrackBack