THE FLOWERS AND THE ROMANCE AND THE LIES UPON LIES
I read Rachel Lucas' fisking of 10 Things You Should Never Say To A Woman. She is spot on at how stupid they are. Actually, come to think of it, I have never had any man ever say any of those 10 things to me, so either 1) I have surrounded myself with high quality men since puberty or 2) the article is a bunch of hooey.
I will say though, that I have had the opposite experience of #2 ("They both look the same to me"). When we were registering for our wedding gifts, my husband thought I would be mad if he didn't express opinions, so he announced that he liked blue dishes. I searched high and low for suitable blue dishes, thinking that I should do something nice for him since he thought it was important. Turns out that weeks later when I broke down in frustrated tears and apologized to him that I couldn't find any blue dishes...well, he had no idea what I was talking about. He said he was just trying to be involved and pretend like he gave a whit of difference. That's when he got in trouble. Men, if you really don't have a preference, say so rather than making your woman tear her hair out trying to please you over something you made up just so you'd look "caring."
Also, I completely disagree with #9. My husband quotes movie lines to me all the time, and I think it's very romantic. Whether he's telling me in all sincerity that I am his Rushmore, or hamming it up and giving me a creepy "I wish I knew how to quit you," I think it's cute. Because for us, every day is Double Soup Tuesday, and every day we choo-choo-choose to be together.
I feel sorry for men trying to pick up women, worrying about offending her at every turn. Maybe if women weren't so full of themselves they'd be happy with a nice man who treats them like a person instead of a delicate little flower. And maybe poor men wouldn't have to change and fake everything about themselves in the hopes that some woman will like the new him.
Sheesh.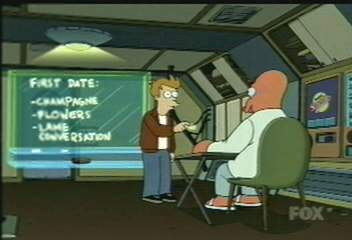 FRY: OK, you're on a date. What's the first thing you do?

ZOIDBERG: Ask her to mate with me.

FRY: No. Tell her she's special.

ZOIDBERG: But she's not. She's merely the female with the largest clutch of eggs.

FRY: Well, tell her that. And then?

ZOIDBERG: Then mating.

FRY: No. Make up some feelings and tell her you have them. Yes?

ZOIDBERG: Is desire to mate a feeling?

FRY: You're not even trying!

[Zoidberg buries his head in his claws and groans.]

ZOIDBERG: It's all so complicated with the flowers and the romance and the lies upon lies.


Yep, we quote that too. And yes, I consider it romantic when we do.
Posted by Sarah at January 28, 2008 10:07 AM | TrackBack