HEY, GREEN, LOOK WHAT I DID!
I took some before and after pictures, but Charlie was definitely not cooperating. And let's face it, I'm just not so good at taking a picture of myself and the dog with the tripod and timer.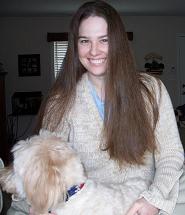 And afterwards, well, I just smelled like eyebrow wax. Which to a dog is quite a curious thing.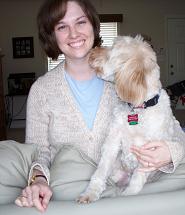 I was able to donate 13 1/2 inches, and since the hair salon I went to was a partnered up with Locks of Love, the haircut was free!
And the husband approves. He says it makes me look 30, which I will take as a compliment.
Posted by Sarah at January 10, 2008 02:36 PM | TrackBack