YUMMY
I took this photo before we left my parents' house. My collection of cookbooks doubled when I hit the ground a month ago...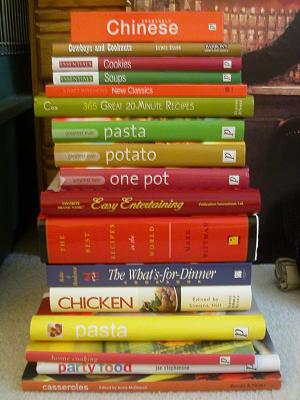 It's a wonder we fit everything in the car...now we just have to fit it all in 500 less square feet!
We made it. The place is nice, if just a tad small. But we'll live for six months. We're still getting settled; our unaccompanied baggage gets delivered on Tuesday, so we should be on the internet within a day or two. Can't wait to be connected again.
And can't wait to start cooking!
Posted by Sarah at June 4, 2006 10:54 AM | TrackBack