PUPDATE
Things Charlie has eaten recently:
a #2 pencil
a Simpsons calendar
another knitting needle, this one wooden
the cover letter to my life insurance policy (whew, only the first page)
the handle of his hairbrush
the handle of his rubbermaid toy box
a chapstick
four coasters
the cordless telephone
And as I was typing this, I realized he was eating a linguistics book.
If you look at a Tibetan terrier from the profile, you can clearly see that his back legs are much longer than his front; Charlie is built like a dune buggy. That gives them great jumping abilities, since their legs are like a kangaroo or a rabbit. I began to get nervous about Charlie's jumping when I first saw him jump from a standstill onto our bed (3 ft). Two weekends ago I was downstairs mopping and the husband was watching Charlie upstairs; he jumped over the baby gate at the top of the stairs to get to me. But last week he wowed us all when a 25 lb dog jumped onto our dining room table to get to Red 6's fries.
This dog will be the death of me.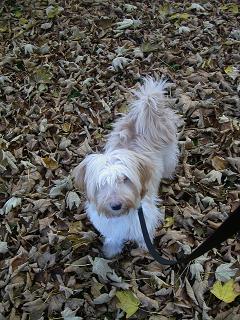 Posted by Sarah at November 9, 2005 02:47 PM | TrackBack