FIRST
When they finally released the soldiers -- and I swear Red 6's ceremony was far shorter than my husband's -- I skipped over to my husband, grabbed his hands, and said, "Hi." And we were back to normal. We stood and talked for a while before I said, "Can I have a kiss?"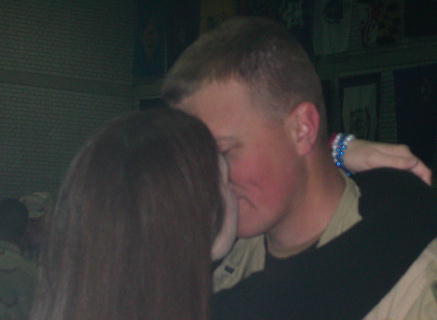 Yesterday I wrote how proud I am of my husband, but last night he made me even prouder. He hadn't slept in two days, he hadn't eaten dinner or gotten any lovin', but the first thing he wanted to do was check on his soldiers. We spent our first hour together in the barracks, passing out bottles of beer and introducing me to his guys. I am so proud that he put them first.
And though you told me to stay away, you know I won't resist the blogging temptation for long...
Posted by Sarah at March 9, 2005 10:15 AM