IMMUNE
(via LGF) The El Salvadorians are apparently immune to the vaginitis plaguing the Spanish-speaking members of the coalition.
After several hours of combat, the besieged unit ran out of ammunition, having come with only 300 rounds for each of their M-16 rifles. Pvt. Natividad Mendez, Cpl. Toloza's friend for three years, lay dead, shot twice probably by a sniper. Two more were wounded as the close-quarters fighting intensified.
"I thought, 'This is the end.' But, at the same time, I asked the Lord to protect and save me," Cpl. Toloza recalled.
The wounded were placed on a truck while Cpl. Toloza and the three other soldiers moved on the ground, trying to make their way back to the base. They were soon confronted with Sheik al-Sadr's fighters, about 10 of whom tried to seize one of the soldiers.
"My immediate reaction was that I had to defend my friend, and the only thing I had in my hands was a knife," Cpl. Toloza said.
So he charged the Iraqis and fought them with his knife. And won.
There's a photo of him with his knife, which I assume will offend people and might disappear soon. I'll keep a copy here. If the anti-war crowd wants to show us photos of coffins and read lists of the deceased as a way to inspire us to give up, then I'll show a photo of a man with more courage than most of us could ever imagine, as a way to inspire us to never give up.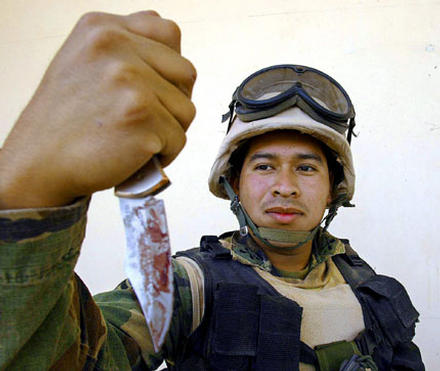 It's real easy for us, thousands of miles away, to pretend that no one has to see the whites of their eyes. Every day the headlines tell us of another casualty, but rarely do you hear of the military triumphs, of the missions that wiped out the bad guys. What we need to remember -- what we need this gruesome photo for -- is that for every coalition soldier who dies, roughly 70 insurgents have been killed. Our servicemembers are brave, they are tough, and they will never give up.
And they're not just Americans; there are some hardcore El Salvadorians too.
Posted by Sarah at May 6, 2004 07:43 AM