THANKS A LOT, DOG
When my husband is gone, my bedtime creeps later and later. I have begun the process of pushing it back to where it needs to be to match my husband's sleep cycle. So Saturday was my last hurrah and I was going to go to bed early last night.
I let Charlie outside one last time, and I noticed he was spending a suspicious amount of time in the garden. We came back in the house, went upstairs, and he immediately crawled under the bed and barfed.
Had he mathematically calculated, he couldn't have done a better job of finding the middle of our queen sized bed. So I'm squeezed under the bed, my arm stretched as far as it will go, scooping up vomit.
Then I notice that the genius dog has also barfed all over his front paws. So into the bathtub he goes.
Guess who didn't really go to bed early last night?
Sleep shifting starts tonight...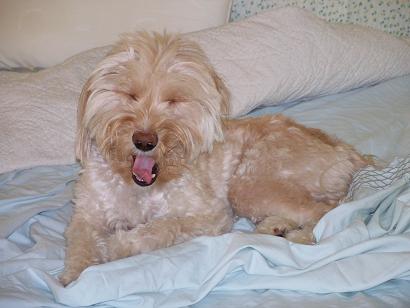 Posted by Sarah at December 8, 2008 08:45 AM | TrackBack