CRAFTING UPDATE
I haven't put any crafting up in a while because, well, I haven't made anything blogworthy. I have spent most of my time crocheting wheelchair afghans for the VA hospital. But, what the hey, I thought I'd put a photo up.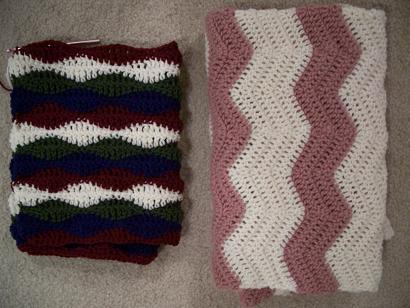 I also have been working on a Primavera sock since I left for San Antonio. It will travel with me to Seattle this coming weekend for the next SpouseBUZZ live. (Which totally snuck up on me. Yesterday AWTM said, "See you next weekend," and I had no idea what she was talking about.)
Tomorrow I am hosting a Yarn Event at our Michaels, where we make blocks for Warm Up America. I have made several blocks in the past few weeks. Hopefully we'll have good turnout.
Posted by Sarah at November 8, 2008 05:45 PM | TrackBack