LOTS TO DONATE THIS WEEK
Crochet, where have you been all my life?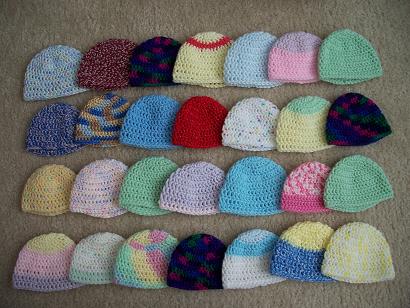 I got a simple dc pattern from one of the ladies in my charity group, and this was a great way to use up all those little golf-ball-sized leftovers. And they crank out quick, in about 40 minutes or so each.
I was a woman possessed, figuring out color combinations so I could use every last inch of the yarn.
UPDATE:
As requested, here's the pattern.
With F or G hook and baby yarn, chain 4.
Row 1: 15 dc in fourth chain from needle (first 3 chains counts as 1 dc): 16 dc. Connect with slip stitch (on this and at the end of every row)
Row 2: 3 chains, *2 dc in next stitch, 1 dc in next, rep from *
Row 3: 3 chains, 1 dc in same stitch, * 1 dc in next 2 stitches, 2 dc in next stitch, rep from *
Row 4: 3 chains, 1 dc in same stitch, *1 dc in next 3 stitches, 2 dc in next stitch, rep from *
Row 5: 1 dc in each dc,
Row 6-9: repeat row 5
Posted by Sarah at October 5, 2008 01:29 PM | TrackBack