INTER-SPECIES SNUGGLING
Mary asked for a pupdate, and I must say that there's not much going on in Charlie's life at the moment. But we did kitten-sit over Labor Day weekend. Charlie spent the weekend chasing after a four-pound kitten trying to make friends. He has such a good relationship with Hitler cat, and he thinks all cats should be as receptive to his advances. Luckily this kitten took it like a champ and even let him get close to her a few times. Here they are snuggled together...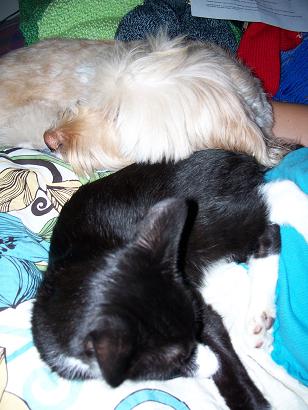 But most of the weekend the poor kitten hid under the dresser in the guest bedroom.
In other cat news, the family that dog-sits for me just got a cat who's not so into Charlie. Charlie keeps getting scratched in the face because he just gets too danged boisterous around their cat.
My husband says Charlie is like Lenny from Of Mice and Men...
Posted by Sarah at September 30, 2008 01:52 PM | TrackBack