A CASCADE WEEKEND
I have wanted to make socks with Cascade Fixation for a while now, so I was delighted to receive two balls as a gift. I searched for patterns online and came upon this one. I tried a gauge swatch, but it was waaay off. I thought maybe it was because the yarn was stretchy, so I just went up a needle size to be safe and got moving.
While I was working, I thought the sock looked small, but I decided to stay in denial. I knitted the leg, heel, turn, gussets, and decreases before I began to panic. I tried the sock on and found that it was tighter than panty hose. No good.
Ripped out the whole thing.
I had to cast on 52 sts instead of 40 to get a sock that fit. This woman who wrote the pattern must have slender legs and feet! So I started knitting Friday morning and had 17 rows done when I boarded the plane.
A man across from me asked what I was making. Then he said, "OK, we've got four hours to Vegas; I want to see how much you can get done!" So I started working. And I worked and worked and worked. I wanted a break, to read or to nap, but I felt all this pressure from the guy in the seat across from me! It was so silly. He drove me to knit for four hours straight.
At the end of the flight, I held up the work for him and he disappointedly said that I hadn't really gotten that much done.
Yep, knitting is slow.
Five hours of work: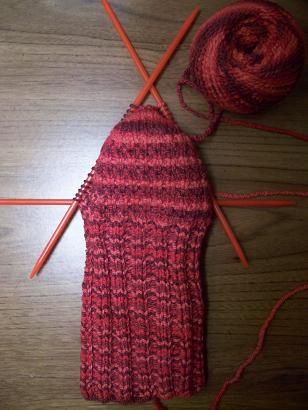 Half a sock. Dark photo taken in our "ghetto fabulous" hotel, as Guard Wife called it.
I came home and finished the sock on Monday and started the second last night.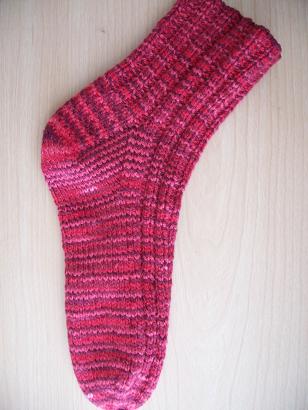 Three cheers for knitting for myself!
Posted by Sarah at September 24, 2008 01:38 PM | TrackBack