THE REJUVENATING SURPRISE
He was rejuvenated. You hear that? Rejuvenated. He was juvenated before, lost it... and got juvinated again. Rejuvenated!
-- Pootie Tang
AirForceCouple was teasing me that 1) I wildly overstated the secrecy of the event and 2) I'm a moron because I didn't recognize that they asked for the same info that I'd been asked for two months ago. But I'm not the type of person who shakes her Christmas presents; I don't analyze surprises too much. I figured it could've been anything.
The AirForceKids got invited to t-ball on the White House lawn. And, heartwarmingly, AirForceGuy came up with the idea to invite me up and include me in the event. I thought it was very touching that he even remembers my name, much less that he wanted to share a family invitation with me.
This t-ball game was more fun than I could have hoped. It was relaxed, darned cute, and quite funny; Mike and Mike were the announcers, and they said hilarious things like, "Next up to bat is Betty Sue. She loves Dora the Explorer, and her favorite food is cake!" We couldn't stop giggling.
And I spent the whole time compulsively taking photos of this man, because he just gets to me.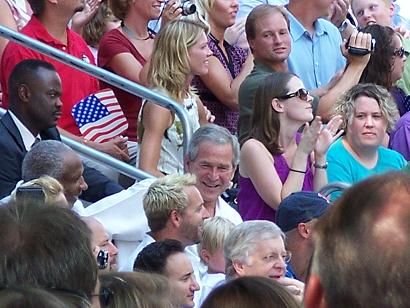 Throughout the game, while I was snapping photos, I was reminded of something a friend wrote to me the last time I went to the White House:
I campaigned vehemently for GW and I love Texas and I love him and Laura, but The World has made this last couple of years feel so foreign, distraught, and the necessity of always being on the defensive or offensive has left me weary.

Living in Texas, I had such pride and hope for a future with GW and I don't mean to say that he has disappointed me, really, he hasn't. The world has. I feel frustrated and weak and that even if you're a good man (or woman) with a strong heart and a strong mind, LIFE can lead you looking stupid, immobile, reactionary, and all the while impotent. Maybe that's just growing up, but darn it, I don't think it has to be so.

That said, your picture of GW brought warmth to my heart. The same warmth that had me jumping on the couches of the Stephen F Austin Hotel during election night of 2000. That hotel hosted the Republican Party headquarters that year that I somehow snuck into, as well as two years later, my wedding reception. A lot has happened in my life in the last eight years, but I would like to thank you for reminding me of why I loved him in the first place.
This is a man who routinely gets called a liar, a criminal, and a murderer. Half the world would rejoice if he died; some people even make movies about it. He is saddled with having the blood of the entire GWOT on his hands. He is blamed for everything, can do nothing right, and daily gets equated with Hitler. And he still gets out of bed in the morning, and still smiles. One-tenth of what this man deals with would make me slit my wrists, and he can still smile.
This week of vacation made me forget my woes for a while, but as I drove home, nagging thoughts about lasik and fertility treatments started to creep in again. So instead I made the conscious decision to feel rejuvenated. At Heather's house we watched The Darjeeling Limited, and I chuckled at how simple yet profound Sister Whitman's plan is:
Alright, let's make an agreement.
A) We'll get an early start tomorrow morning and try to enjoy each others' company in this beautiful place.
B) We'll stop feeling sorry for ourselves; it's not very attractive.
C) We'll make our plans for the future.
Can we agree to that?
I'm feeling rejuvenated, and I am going to do my best to hang on to that feeling for as long as I can. And smile.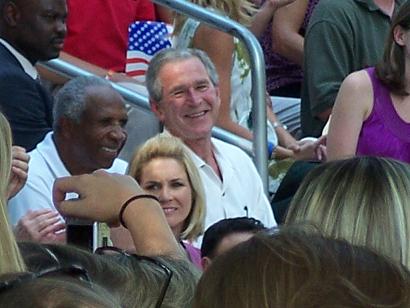 Posted by Sarah at July 17, 2008 06:22 PM | TrackBack