NO MORE TOMATOES
My mother and I planted a vegetable garden while she was here, and I had four thriving, big tomato plants on the back fence. I go out there tonight and find this.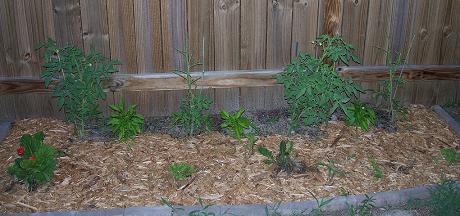 Every second plant was stripped completely bare. No leaves. Huh? I move in for a closer look.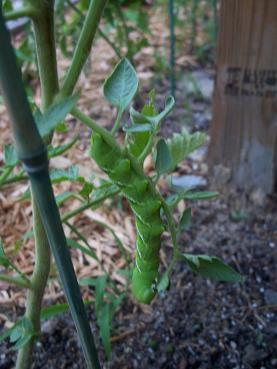 Two of the fattest, grossest caterpillars took up residence in my garden. Both totally engorged with an entire tomato plant. They were about four inches long and as thick around as a Tootsie Roll.
Blech.
Naturally, I pried them off with a spatula and dumped them over the fence into the neighbor's yard. They don't have anything planted in their yard anyway.
I'm bad.
Posted by Sarah at July 9, 2008 08:39 PM | TrackBack