KNIT UPDATE
Last Saturday was world-wide Knit In Public Day. AWTM caught sight of some ladies participating. I was supposed to join in with a friend here in town, but, well, last Saturday turned out to be a little busy.
I plan to celebrate Knit In Public Day (Observed).
Here's what I've been working on. I have been commissioned to make a blanket for a dear reader, and Charlie has taken a shine to it. Any time I leave the room, he curls up with it. Happy Baby Shower; hope you like dog hair!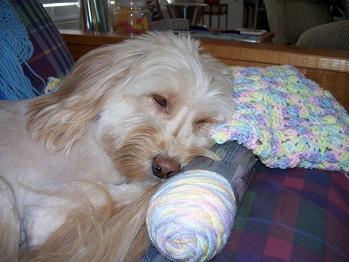 Also, I've only made one, so I need to get a move on. The 4th is coming up, and preemies need to be swathed in red, white, and blue.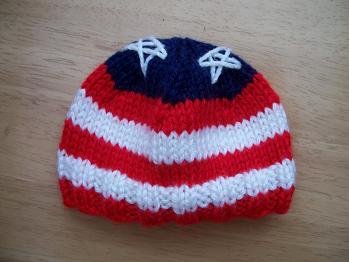 I have also been working on super-secret projects for a couple of you barefoot and pregnant bloggers. You know who you are. And no, I won't say what you're getting. But the best thing about getting to know people via blogging is that you learn all these little tidbits about them that come in handy later, like when you want to make something special that only they will truly grok.
Posted by Sarah at June 21, 2008 08:35 AM | TrackBack