PUPDATE
Dear Husband,
As you know, Charlie and I spent Memorial weekend with my father's family. In attendance were ten children under the age of ten. They were all dog owners, so they know how to behave around dogs, but they all own big dogs. So Charlie was a novelty to them; here was a dog they could pick up and carry everywhere. They dragged him all over the place, pulling him into the recliner with them and carrying him around the yard. And he took it, with no fussing whatsoever.
Not even when the girls dressed him up.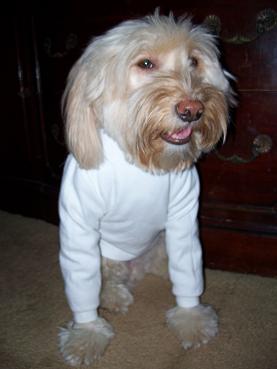 Yes, that's right: little girls put humiliating clothes and hats on your dog. And treated him like a baby doll.
This picture just screams "You gotta be kidding me."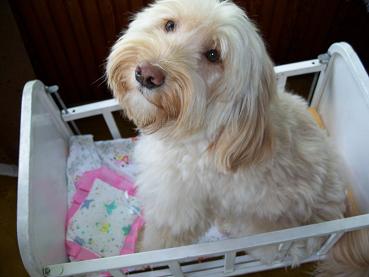 But he took it like a man all weekend. I was so proud of him. A few times he tried to hide from the kids under the end table, but they grabbed him and dragged him back out.
And my one cousin brought her new 6-week-old baby to the house. She set his seat up in a room off the living room. Whenever the new baby would fuss, Charlie would get up and go over to him to make sure everything was OK. He'd come back to the middle of the living room like Lassie, as if to tell us, "Didn't you hear that baby? He needs help!"
I think he's going to do just fine with a new baby in our house.
Love,
Sarah
Posted by Sarah at June 1, 2008 10:06 AM | TrackBack