HO HO HO
I've got my holiday preemie caps to donate this week.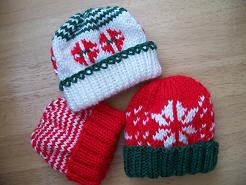 I had all these grandiose plans to make Hannukah caps and all sorts of goodies, but last week kinda took the wind out of my sails. I made these over the weekend and that will have to do for this year.
And now I'm looking forward to the lack of upcoming holidays so I can just make hats from whatever colors I want. I'm free until 4th of July! OK, maybe a few hearts for Valentine's Day. But I swear I will not attempt an intarsia Abraham Lincoln in February.
Posted by Sarah at December 10, 2007 11:19 AM | TrackBack