STYLIN' BABIES
More Halloween preemie hats. These are sure fun!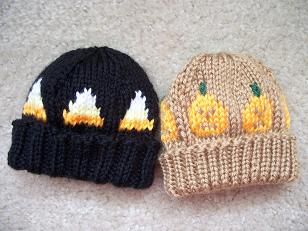 The black one is with candy corns; it's a little easier to see in person.
The tan one...I should've used black for the jack o lantern mouths but I didn't want to do three-stranded colorwork. And duplicate stitch looked like crap when I tried it here. Come to think of it, I think duplicate stitch usually looks like crap. Not a fan.
My next idea: designing a turkey for some November hats.
Posted by Sarah at October 5, 2007 02:39 PM | TrackBack