MACROSCOPIC
German co-worker was always leery of the US. She thought it was such a dangerous place. Of course, she was born and raised in rural Bavaria, and her only experience in the US was in her in-laws' run-down neighborhood in Detroit. I, on the other hand, know several families in the Midwest that don't even lock their front doors. Danger is in the eye of the beholder.
So which is the real US? Someone from rural Wisconsin will have a completely different idea than someone from the barrio in L.A. Neither one of these places is less real, but you might not even recognize them as the same country if you saw descriptions of them side by side.
So which is the real Iraq? Is it Erbil?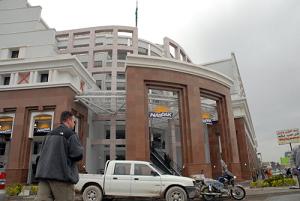 Or is it Baghdad?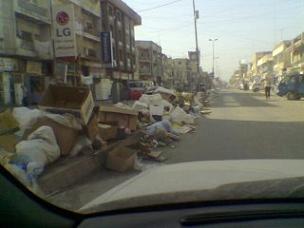 It would be hard for an Iraqi living in either one of these places to give a good bird's eye view on what the country as a whole is like. Just like someone from Wisconsin would be lousy at describing the barrio. It's just really hard to do. And even harder to do when you're an outsider.
My husband had a pretty good understanding of what his sector was like in 2004-2005. But he's the first one to admit that that means nothing today. His experiences are outdated, and the same neighborhoods are quite different two years on. And even while he was boots on the ground, he had no experience whatsoever with what was going on in Basra or Tikrit. His view was microscopic.
I have been thinking about this a lot tonight, ever since I read Thomas Sowell's latest article, which begins with the brilliant line, "Sometimes I feel as if I must be one of the few people left in America who is not a military expert."
For example, all sorts of politicians have been talking about all sorts of ways we ought to "redeploy" our troops. The closest I ever came to deploying troops was marching a company of Marines to the mess hall for chow.

But people who have never even put on a uniform are confident that they know how our troops should be redeployed. Maybe this is one of the fruits of the "self-esteem" that is taught in our schools instead of education.
If my husband's information on Iraq is microscopic and outdated, I can't begin to describe Congress'. An overnight trip to the Green Zone doesn't teach you a lot about what Iraq is like. You'd be better off reading a book on Iraq than sitting in a Baghdad hotel.
But these days, everyone is a military expert. Nothing has made that more painfully obvious than this New York Times article on General Petraeus' speech.
Under the timetable embraced Monday by Gen. David H. Petraeus, the number of American combat brigades would decline by one-fourth by next summer, to 15 in July from 20 now, with the prospect of deeper, if as yet unscheduled, reductions to come.

But such a move would raise the question of how the United States can avert an increase in violence in Iraq while carrying out a gradual drawdown. One approach embraced by many lawmakers would be to modify the American mission to emphasize the training and advising of Iraqi security forces so that Iraqis would be pushed into the lead and a vast majority of American combat troops could be quickly withdrawn.

This proposal, which was offered last year by the Iraq Study Group, the bipartisan panel led by Lee H. Hamilton, a former congressman, and former Secretary of State James A. Baker III, has appealed to many Democrats and some Republicans who want to achieve a measure of stability in Iraq while shrinking the role of the American military.

But in his testimony on Monday, General Petraeus offered a very different vision. He proposed an American presence that would not only be longer and larger than many Democrats have advocated but would also provide for a greater American combat role in protecting the Iraqi population.
They may as well have started the article with "Most Americans we polled want to bring the troops home, but unfortunately some jerkwad named Petraeus is in charge and he doesn't want to listen to all of us." I mean, really. This is how they set up this article? "One approach embraced by many lawmakers"? As if they really have any clue what they're talking about. Didn't only one of the Iraq Study Group guys ever leave the Green Zone? They seriously set up this article about General Petraeus' speech as "Here's what we think is best but Petraeus disagrees." That is not only extremely poor journalism, it's oh so sanctimonious.
General Petraeus' grasp on Iraq is likely not perfect either, but it's probably as macroscopic as it gets. And they hired him to do a job -- assess what we need to do to win in Iraq -- and now no one wants to hear the results.
General Petraeus acknowledged that some military officers in Washington favored faster change in the American mission, but he said that his approach reflected his best judgment on how to cope with the violence in Iraq.

General Petraeus promised a more detailed discussion of the "post-surge" phase in March. But one point was made abundantly clear: if he has his way, in the next phase the United States will not rely largely on a program to advise and train the Iraqi Army while removing its own forces from the battlefield.
Translation: He says he's giving us his "best judgement," but it's not what we wanted to hear. Now, let's go write some more articles to try to sway public opinon so he doesn't have his way.
No one is going to have a perfect picture of what will bring absolute success in Iraq. Most Americans couldn't even tell you how to stop crime in their own neighborhoods, but all of us are military experts these days. And apparently all of us know better than Petraeus.
Nevermind that we've never even heard of Erbil.
Posted by Sarah at September 12, 2007 01:00 AM