SEASONAL KNITTING
I have been crankin' out preemie caps for my Fairy Godmothers group for the past two weeks. They are so fun to make because they're quick and you can play with different colors. I think I might freak some of the ladies out with my hot pink and lime green, but I think some hip young wife will like it.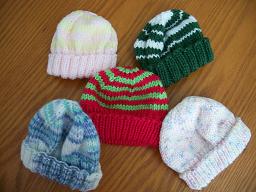 I also have to do job-related knitting: Michaels is redesigning the front of the store and so we have to have season-themed projects on display. I copied The Girl's first baby project and made the baby pumpkin hat.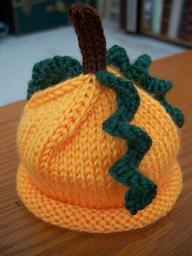 I also started knitting this spider last night, but I hate him. He looks more like a fly than a spider. I am going to finish him and then maybe try to make this variation of the spider pattern and see if it turns out any better. But I have to turn my seasonal knitting in by the end of the week, so I may get desperate and have to turn in the fly spider after all.
UPDATE:
OK, he doesn't look so bad now that he has legs...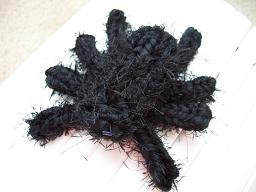 Posted by Sarah at July 23, 2007 12:20 PM | TrackBack