OUR DIMPLED CHAD
Over the weekend, we were very optimistic about taking a pregnancy test. We thought the fifth month just might be the charm. But if our pregnancy test had been an election ballot, we would've been looking at a dimpled chad.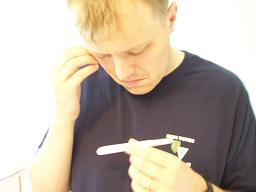 That photo is not staged; that's my husband trying to figure out what in the heck was going on. One line means no, two lines means yes, but what does one dark line and one line that's barely perceptible to the naked eye mean? We wanted to find out if we were having a baby or not, and instead we got "Pat Buchanan."
Incidentally, if something is advertised as 99% effective, why does it need to be sold in two packs?
Another test and two more days later, and we're pretty sure we're not pregnant. I was on the phone with my mother, sniveling about how every month that passes brings more likelihood that my husband will deploy before this baby ever shows up, and my mother said the most perfect thing she could've said in this situation: She said that she would obviously do whatever she could to help me if my husband is gone when this baby comes, but that she wanted us to know how proud she is of us, that we've chosen a very difficult lifestyle and that she admires and respects us for making this family sacrifice for our country.
I thought about what she said later in the day, and I thought about the book report I wrote for SpouseBUZZ that morning, and I realized that she's right. We've chosen this life, and we can un-choose it any time we wish. But what we can't do is stick with this choice and then complain about it. Would I want to get out of the Army in order to have my husband here next year? No. So that's our choice. It's important to us to be in the Army, so it has to be important enough to stop complaining about the situation.
So if he's here, he's here, and if he's not, he's not. That's the way it has to be, and there's no sense in talking about it or dwelling on our so-called bad luck.
But can we at least get some better luck in reading those danged home tests?
Posted by Sarah at July 2, 2007 09:13 AM | TrackBack