FIVE YEARS
Five years ago today, I was trying not to barf. I was so nervous that morning, for no good reason at all. People were a tad concerned that I was having cold feet, but I told my husband on the phone that no matter how sick and nervous I looked, it had nothing to do with doubts about marrying him. Once I headed down that aisle, I was fine, and I was even better when it was over.
Greatest thing I ever did.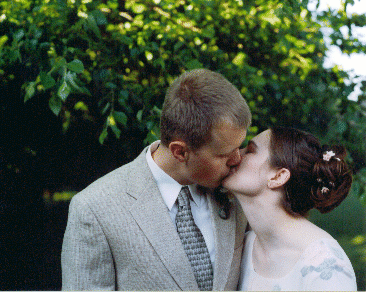 We had such high hopes to return to D.C. today and relive our honeymoon. But as we waited to see how much homework he'd have this weekend, we ran into snags for a dogsitter. The trip back to D.C. will have to wait a little bit. I was quite disappointed at first, but then I finally came to my senses and told my husband that it doesn't matter where we are or what we're doing, we're just so lucky to be spending the day together.
And adding another photo to our collection.
Posted by Sarah at June 15, 2007 08:24 AM | TrackBack