THE JACKPOT
If you're the praying type, send one up for me today. I'm gonna need it when my husband gets home...
I went to the store intending to buy $3-worth of yarn for teddies. Instead I came home with this.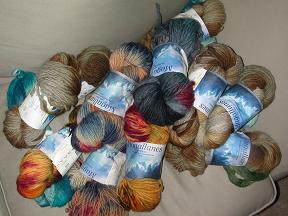 Welcome to Divorceville, population: me.
LATER THAT EVENING:
Still married. In fact, he didn't seem that fazed. And I don't have anything specific in mind to make with it; I just bought all the store had because it was 50% off. Ideas will come...bags can be felted...the yarn will find its purpose.
Posted by Sarah at February 13, 2007 02:41 PM | TrackBack