CHRISTMAS PRESENT
I don't know if my friend from Sweden still checks in on my blog anymore, but if you do, don't look! The rest of you can check out the extended entry...
I'm too excited about my latest knitting project to wait until after Christmas to post a photo. Right before the World Cup this year, I found that German yarn shops were carrying sock yarns in different national colors. My friend from Sweden has been living and working in Germany for the past few years, and I figure there's nothing that makes you want to connect with your home country like living abroad! Thus I thought she needed some socks to show off her Swedeness. I designed some socks with the Swedish Lesser Coat of Arms on the heels, modeled here by my mama.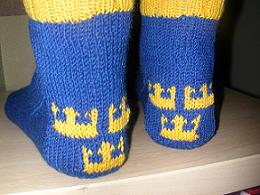 I am so excited at how they turned out, and I can't wait to send them to her. But thank goodness Sweden has a simple coat of arms!
Posted by Sarah at October 6, 2006 10:03 AM | TrackBack