FRANK PALOMBO
The hole left in the earth at the foot of Manhattan is nothing compared to the hole left in our hearts by Frank Palombo's departure from this earth.
--Steve Kennedy
When you sign up for the 2996 Project, you get an out-of-a-hat name and a photo. I stared at that photo a long time before I started my research, trying to get a feel for Frank Palombo.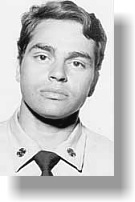 All I could think about was how old-timey he looked, how he looked like a man from another era. And when I started reading about him, I realized he was a man from another era.
Frank Palombo met his wife when she was nine and he was 14 [1]. Nine years later they went on a date, and there went Frank's plans of joining the priesthood [2]. Their marriage brought ten children.
Ten children.
My heart dropped when I realized how "famous" Frank Palombo is among 9/11 victims. Major Giuliani himself attended Palombo's funeral and told his children, "Nobody can take your daddy away from you, you know that you are the son and daughter of a great man, a hero, a fallen warrior" [3]. New York Giants coach Jim Fassel has given both his money and his time to help raise the ten Palombo children, inviting them to games and eating dinner at their home [4]. But Frank's wife, Jean, doesn't want to be the famous 9/11 family; she turned down an invitation to be on Oprah [5].
I've been so impressed reading about Jean Palombo. She woke up on 9/11 thinking she was pregnant again. But God didn't bring her another baby that day; instead He took her husband. Through it all, she seems to have remained an incredibly strong woman. I want to weep when she describes her family's new life: "The children are happy because of the father they have, but they miss not being able to play with him, not being able to pray with him, not being able to learn with him, and not being able to be with him" [6].
Oh, and I haven't even mentioned yet that he was a firefighter. He was set to retire in January 2002 but instead was one of six firefighters lost from his Ladder.
Look at his photo again. Frank Palombo was a devoted Catholic and public servent. He organized youth group trips to see the Pope [7]. He loved being a father and even wanted more children. He seems more like a Greatest Generation than a Baby Boomer, doesn't he? He was like a man from a simpler time, an older generation that took pride in a strong family and a life of service to others. It's not common to find men like this these days, and I think the world is worse off for losing a man like Frank Palombo.
Remember Frank Palombo today for the simple but full life he led, a life devoted to his faith, family, and fellow men. And remember Jean Palombo and Anthony, Frank Jr., Joseph, Maria, Thomas, John, Patrick, Daniel, Steven, and Margaret Mary.
OTHERS TO REMEMBER TODAY:
Manuel Molina
Vincent Morello
Ramzi Doany
Father Mychal Judge
Mark McGinly
Scott Johnson
Robert Frank Tipaldi
Battalion 1 Chief Matthew Ryan
Chow Kwan Lam
Brian McDonnell
Zhanetta Tsoy
Chip Chan
(If I haven't found your tribute today, please leave me a comment so I can add it.)
Posted by Sarah at September 11, 2006 06:15 AM | TrackBack