IT'S HERE
The other day the doorbell rang, and UPS handed me my copy of The Blog of War.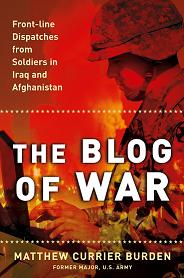 Blackfive did a wonderful job of pulling this anthology together, and the finished product is a wonderful slice of history. The best part of the book, in my opinion, is how no one knew he would be published. We wrote our entries for our blogs, not for a book, so the writing is spontaneous and honest. We expected our friends and blog family to read our words, not the whole world; there's no pretension or feeling of "this is literature" in The Blog of War. It's just servicemembers and spouses describing deployment.
I've been reading it this week, and I must say I can only handle its intensity in small doses. Reading this book brings back deployment feelings that I honestly had forgotten about, and I find myself reliving the anguish, the anxiety, the loneliness, and the fear. I've been laughing, and lord, I've been crying, and with every page turn I've been wishing that every person I know would read this book.
But whatever you do, don't try to read the chapter on The Fallen all in one night. You won't sleep, trust me.
I recommend this book to anyone who wants a glimpse into OIF and OEF. At a mere ten bucks, it's a steal on Amazon. My mom bought six! So far, I know our friends from Poland and Sweden have also bought copies, and I'm anxious to hear their responses. But it's a no-brainer if you're reading blogs and if you've ever visited MilBlogs; this book is definitely for you.
Buy the book. You won't be sorry.
My only regret is that this story didn't make it in. I didn't think to suggest it until I started reading the book and knew how perfectly it would've fit.
Posted by Sarah at September 2, 2006 07:37 AM | TrackBack