GIVE-AWAY KNITTING
I had give-away knitting on the brain the other day when I saw an episode of Knitty Gritty on knitting for charity. They made a cute teddy bear to send to kids in Africa. I have so many apple-sized balls of yarn in this house that I thought this might be a good way to whittle some of that stash down. So I grabbed some yarn and went to work; 36 hours later, I've got a bear to send.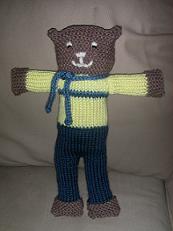 He's not perfect, but hopefully some child will like him. I plan to perfect the technique by making a few more. I'm digging in to the two big baskets of yarn from my living room (Girls, you know what I mean!)
If you're interested in doing this super easy project, the pattern can be found here. (Seriously, I started him yesterday afternoon.) And check out the official Mother Bear Project website, especially the photos of the kids receiving their bears. And then get knitting!
Posted by Sarah at July 15, 2006 10:22 PM | TrackBack