WHAT?
Sweet merciful crap.
Right now on MSNBC on TV, they're announcing that the US has launched the biggest "air strike" in Iraq since 2003. This would be news if it were true, but what is really going on is an air assault, which is nothing like an air strike. An air strike is planes dropping bombs; an air assault is helicopters dropping troops onto the ground so they can kick down doors. Big whopping difference, news folks. Maybe you should get your damn terminology straight before you start blabbing your mouths.
As of right now, the MSNBC homepage has this graphic: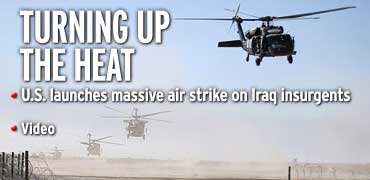 Which leads to this article: U.S. launches largest Iraq air assault in 3 years
Correct information in the article, which the military spoonfed them; incorrect information in their flashy photo.
Oh media, how I roll my eyes at you.
This is not just a nitpicky difference. The two words are completely not interchangable. Why didn't someone correct the anchorwoman, who repeated "air strike" several times? Oh, that's right, because no one at MSNBC has the first clue about the military.
Posted by Sarah at March 16, 2006 06:21 PM | TrackBack