HUH?
Last night I was listening to a radio program about the benefits of pet therapy, where they take nice doggies to hospitals to cheer up patients. The program said, "Pets are a great way to reduce anxiety."
Um, I'd like to negotiate a trade.
Yesterday Charlie looked me right in the eye and squatted to pee on his bed, ate the first ten pages of The Federalist Papers, and managed to chew a hole in the bag of dog food on the shelf so that he could sit under it and have food pour down into his mouth.
Reduce anxiety, my foot.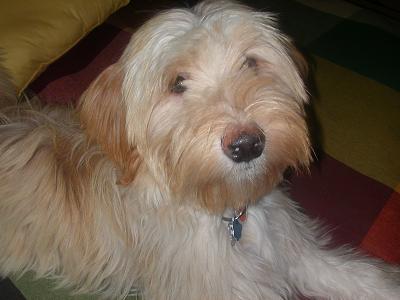 Posted by Sarah at October 19, 2005 10:07 AM | TrackBack