DALLAS
I was too young to watch Dallas, but thanks to the magic of DVDs, I've been enjoying that bit of TV history. I mentioned to my husband that it's interesting how simple the plotlines are. To a generation raised on M. Night Shyamalan and CSI, the thought that you could base an hour of TV around "Jock has a heart attack" seems amazing. Dallas is not boring by any means, but it's sure not fast-paced TV like we're used to.
My husband told me about the pending movie plans for Dallas. I had no idea this was in the works, but now that I know the characters, I certainly can't see Brad Pitt as Ray Krebbs! My friend and I were talking the other day about how the idea of beauty shifts over time. We remarked that Charlene Tilton would never have been cast as Lucy today, because by today's standards she's fat. Even though she's not fat at all; she's voluptuous and womanly. I was grossed out to find that they're thinking of casting Lindsey Lohan as Lucy for the movie. Maybe Lohan circa 2004, but not now. There's just no way I'd choose this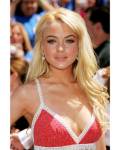 when Lucy's supposed to look like this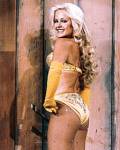 Give me a curvy, thicky-thick Lucy any day. And a JR who looks like Travolta.
Posted by Sarah at October 8, 2005 11:35 AM | TrackBack