BIRTHDAY
Charlie turned six months old today. He celebrated by losing two more canine teeth. Only one more to go and then I'm free from puppy bites.
It's not fair that I expect him to be perfect already. I get so frustrated when he grabs the end of the toilet paper and runs under the bed with it, or when he eats a hole through the carpet, or when he barks at 0600 because he wants to play. It's easy to forget that he's made lots of progress: he can ring a bell to let us know when he wants to go outside, and he gets in his crate at night all by himself.
And he's always good for a laugh. The other day we were chasing each other around the house and he tried to jump out a window. A closed window.
He's a keeper...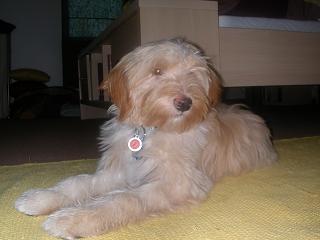 Posted by Sarah at October 3, 2005 07:50 PM | TrackBack