DIFFERENCE
For many soldiers, this is the face of Iraq...

This is their experience and what they remember from their time in Iraq. But reader Tanker sent me a link to another face of war. It's another very real aspect of Iraq these days...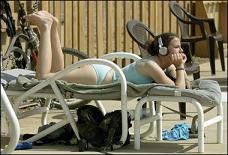 The difficulty with the war in Iraq is the differing missions. One soldier's experience could be mighty different from another's, and when both write home and tell friends and family what "war" is like, they're going to paint a very different picture. That's how my favorite reservist ended up in a conversation where someone said, "You guys just stayed in camp and took pictures, right?", when in fact over half of the soldiers in his unit saw major action and are suffering from PTSD. FOB Anaconda has a Baskin Robbins and salsa dancing night; my husband and his platoon spent 87 days living IN Iraq, outside the safe confines of an American FOB. If your daughter is lying around in a bikini in Iraq, you'll have a vastly different view on the uptempo of the war than the Marlboro Man's mom does.
Posted by Sarah at August 21, 2005 12:08 PM | TrackBack