TOUR DE BLAH
Dear Tour de France,
Riders in the Tour should not be allowed to wear yellow. Sponsors with yellow jerseys make it extremely difficult to find the Maillot Jaune. Because other teams wear yellow, some people drive four and a half hours to see the peloton and can't even find Lance when it comes whizzing by. And that makes some people really irritated and sad.
Sincerely,
Sarah

We drove to Mulhouse yesterday for the finish line, and I was quite disappointed with my Tour experience. We waited for two hours at our spot at about 750 meters from the finish line, and then when Rasmussen finally arrived, this is the photo I got, thanks to the jackass standing next to me.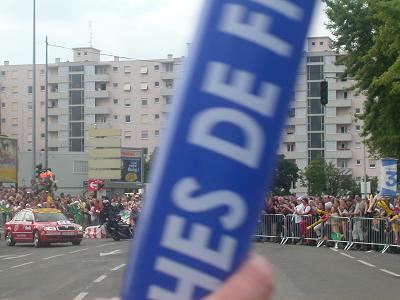 That's the winner of the stage, right behind the stupid balloon some guy waved in my face. I managed to get a good photo of Voigt and Moreau as they took second and third, but then the peloton came screaming by and I couldn't even find Lance, but I got to listen to my husband rave about how cool it was to see him. And then it was all over; only the people in the VIP section could see the end ceremonies, so we walked back to the car and that was that.
We discussed how the Americans would run a Tour de France: lots of big screens and food vendors and selling souvenirs and crap; a big stadium area for the end ceremony so everyone could enjoy it. As it was, we felt like no one really cared if spectators came or not. It was kinda weird, and rather disappointing.
I'm glad we went because it was something neat to say we've done, but I'm not sure it was worth nine hours in the car yesterday. I'd rather watch it on OLN.
Posted by Sarah at July 11, 2005 08:46 AM | TrackBack