CHARLIE UPDATE
Dog rearing is moving along nicely. Over the weekend Charlie met his "cousin" (my husband's brother's dog) and managed to hold his own despite being a fourth of his size.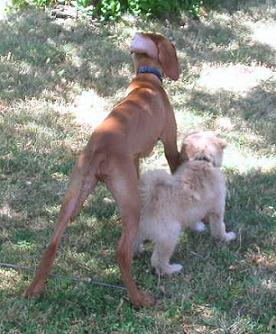 Last night we hit a milestone: Charlie slept his first full night! But both my boys were exhausted after PT...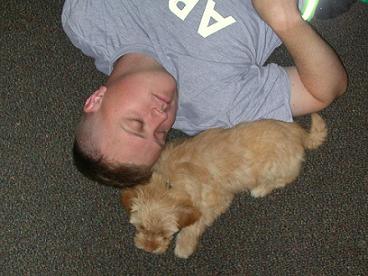 And we just can't stop taking pictures of him.
It's funny that we wanted the Tibetan breed because we wanted a couch potato dog, but Charlie takes it to extremes! He's the only dog I've ever heard of who hates going on walks. When he sees the leash, he hides. When I try to get him out the door, he plants his feet and resists. What a hoot he is.
Posted by Sarah at June 29, 2005 09:00 AM