PUPPY
My husband wants a dog. He's wanted one for a long time, but I've been dragging my feet. Dog-owning is a lot of responsibility, and it leaves little room for weekend trips and spontaneity. I have spent a fair amount of time this year dogsitting, and it requires a good deal of work and patience.
I watched my friend's dog for a month at Christmas, and I got him back when she went home for her brother's funeral. I think her dog thinks I'm his new owner. This is the fourth time I've watched him, and he's finally settled in. He doesn't follow me around four inches from my feet anymore. He doesn't beg to sleep with me anymore. And all of a sudden I am more OK with having a dog.
My husband and I spent a long time disagreeing on breed: he wanted a big dog and I wanted a medium-to-little dog. He put his foot down at "yippy" and I put my foot down at "shedding." We found a breed we can agree on, and the breeder near our house will even have a litter of Tibetan terriers sometime this spring.
In a few months, we might be the proud owners of something this cute: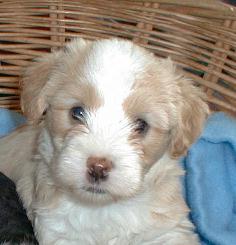 Any advice for first-time dog owners?
(By the way, if looking at photos of new puppies makes you as happy as it does me, then check out this site.)
Posted by Sarah at January 31, 2005 09:13 AM