UNVEILING
My icing skills have definitely improved since the last cake -- it helps when you read the instructions and you make frosting instead of drizzle -- so this one is actually legible.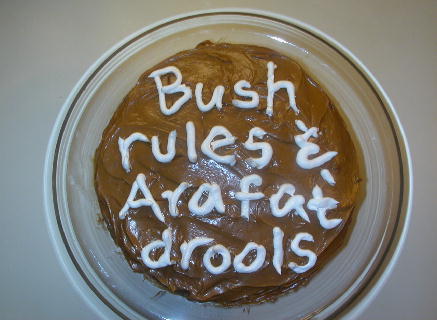 I decided to make a pro-Bush instead of an anti-Kerry cake when I saw how quickly Kerry conceded. I respect him for not dragging it out, and I actually feel sorry for him. He was a man who geared his whole life towards running for president one day, and I feel sorry for him that his dream never materialized. I'm relieved he's not our President, but I feel and respect his disappointment.
Arafat's fair game though.
Posted by Sarah at November 3, 2004 08:05 PM